FINANCIAL HELP THAT HELPS EVERYONE
Aligning our help with your DEI initiatives, through targeted content and programs.
REPRESENTATION MATTERS WHEN EMPLOYEES CONSIDER FINANCIAL BENEFITS
While many companies are taking steps to implement diversity, equity and inclusion (DEI) initiatives, fewer have taken the steps to address DEI-related barriers in benefits, and employees are taking notice.
62%

say they don't always feel represented in their company's benefits messaging1

74%

who always or often feel represented in benefits messaging use these benefits1

93%

of employees who don't always feel represented would be more likely to use financial wellness benefits if they were more personalized1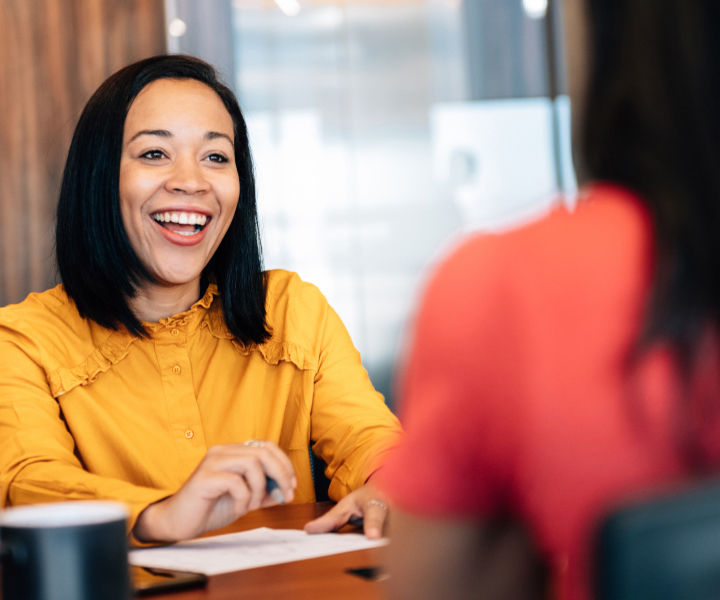 DIVERSITY DEMANDS THE RIGHT LEVEL OF EMPLOYEE SERVICES
Targeted webinars, delivered through Employee Resource Groups, on acute topics and needs
Tailored articles and education to address unique considerations across demographics
Customized communciations and outreach
Human support from "people like me"
HOW EMPLOYERS CAN IMPROVE BENEFITS MESSAGING TO DRIVE HIGHER ENGAGEMENT
Despite many companies offering financial wellness services as part of their employee benefits packages, not enough employees take advantage of these services. We set out to explore the reasons why and examined ways companies can make improvements to their benefits communications to drive higher engagement.
DIVERSE EMPLOYEE NEEDS – WHAT THEY WANT VS. WHAT THEY NEED
At the intersection of DEI, employee benefits, and financial wellness, many complex questions and considerations arise. This candid conversation explores the wants and needs of underrepresented employees to uncover what more employers can do to help.
WOMEN OF COLOR & WEALTH: STRIVING TO CREATE A NEW FINANCIAL FUTURE

We set out to explore the unique stories and needs of women of color with a focus on the ways employers can better support them on their individual journeys.

LGBTQIA+ Employees Lack the Personalized Support They Need to Succeed

LGBTQIA+ employees and how employers can better support the financial goals of this underserved population.

 
We want to hear about the unique needs of your workforce so that we can help.
We match your employees with customized solutions to achieve their unique financial goals.
Our industy-leading engagement strategies are proven to drive meaningful outcomes.
Our advisors do not sell investment products. Their first and only goal is to provide advice in your employees' best interest.
1 The Edelman Financial Engines Survey was conducted by Wakefield Research among 1,000 nationally representative US employed adults ages 25+ whose employer offers benefits between June 1st and June 12th, 2022, using an email invitation and an online survey with "employed'' defined as those working full or part-time. This survey has been weighted to ensure accurate representation. Results of any sample are subject to sampling variation. The magnitude of the variation is measurable and Is affected by the number of interviews and the level of the percentages expressing the results. For the intervlews conducted in this particular study, the chances are 95 in 100 that a survey result does not vary, plus or minus, by more than 3.1 percentage points from the result that would be obtained if Interviews had been conducted with alI persons in the universe represented by the sample

© 2022 Edelman Financial Engines, LLC. Momentum services are offered by Edelman Financial Engines, LLC, and affiliate(s), as applicable, through an employer agreement. Retirement plan advisory services are provided by Financial Engines Advisors L.L.C. through a retirement plan sponsor agreement.